"1C:Enterprise 8. Trade Management" provides accounting, planning, and sales data analysis, improving a company's management efficiency.
"1C:Enterprise 8. Trade Management" has many more functions than "1C:Trade and Warehouse 7.7" and automates the following activities
Sales management (wholesale, retail, commission trade)
Delivery management
Stock management (including web extension "Remote warehouse")
Sales and purchase orders management
CRM Sales and purchase planning
Price management (including analysis)
Main activities analysis for top management
Integration with trade equipment (scales, POS, barcode scanners)
"1C:Enterprise 8. Trade Management" automates all base trade and warehouse operations, bank and cash operations, basic data acquisition for financial accounting (for further transferring to 1C:Accounting 8 and 1C:Accounting 7.7 application). An upgrade from "1C:Trade and Warehouse 7.7" is also available.
There are two versions of "1C:Enterprise 8. Trade Management"
"1C:Enterprise 8. Trade Management" base version
"1C:Enterprise 8. Trade Management" professional version
"1C:Enterprise 8. Trade Management"
Improves efficiency of all company services
Work with real time information
Includes a fast and flexible report system for different levels of company management
"1C:Enterprise 8. Trade Management" includes special report for top management, which includes
Cash balance and turnovers
Payables and receivables
Stock statement
Inbound and outbound payments schedule
Cost of goods in stock
Sales personnel efficiency
Marketing campaigns efficiency
This report may be setup to run automatically and be sent by email permitting company management to receive actual information and make decisions wherever they are.
"1C:Enterprise 8. Trade Management" helps to manage
Goods turnover and prices
Sales order management
Stock balance optimization
Turnover analysis
Purchases and deliveries planning
"1C:Enterprise 8. Trade Management" is a powerful tool, which handles routine processes and enables managers to focus on business development.
Modules
CRM (Customer Relationship Management)
Sales process management
Business processes mechanism
АВС/XYZ analysis
CRM Reporting
Sales Rules Management, Marketing
Price calculation mechanism as arbitrary formulas
Mechanism for automatic calculation of discounts or margins
Individual control of specific items (discounts for marketing campaigns)
Segmentation mechanism to identify stable group of customers
Sales Management
Quotation based on data of primary interest to the client
Possible flows of sales documents are presented in the following figure
Customer order status
Order confirmation process
Payment schedule per order
Debt control
Sales Representatives (Agents) Management
Assigning agents to clients
Scheduling client visits
Assisting in order preparation
Analysis of sales representatives` efficiency
PDA Extension
Financial resources
Payments calendar
Automatic recording of all payments
Confirming completion of bank payments
Generating reports on bank transactions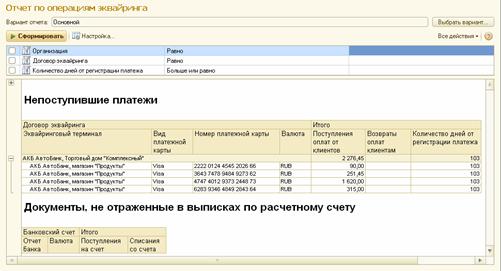 Inventory Management
Warehouse efficiency, maintaining balances of goods in the context of "storage sites" (cells, shelves, shelving), and packaging of goods
Allocation management upon receiving
Inventory control
Goods Provisioning Mechanism
Automatic order generation
Procurement Management
Supplier price list management
Automated order control
Monitor payment progress
Analysis of payments to suppliers
Financial Accounting
Tracks intercompany operations
Accounting for financial results (profit and losses) is tailored to specific company' needs
Customer definable rules for distribution of costs and revenues from sales activities
Cost control
1C Trade Management solution is fully developed on the web-application of 1C: Enterprise 8.2 platform.
Several subsystems developed in the web-application
Remote equipment (trade and etc.) integrations
Printing
Export to .doc (Microsoft Word) and .odt (OpenOffice) formats
Typical file operations
Revision control